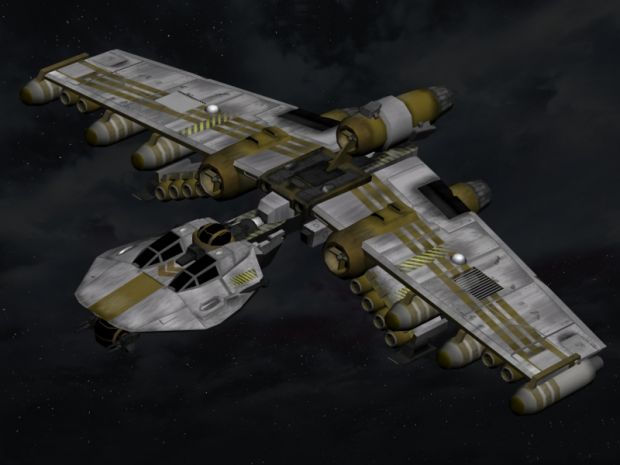 ​
OUT OF CHARACTER INFORMATION
PRODUCTION INFORMATION
TECHNICAL SPECIFICATIONS
Classification: Droid Starfighter
Length: 11 meters
Width: 24 meters
Height: 8 meters
Armament:

Very High


Heavy Maser QuadTurret (Nose)
Dakka Turrets
8x Projectile launchers (Starighter size)
Advanced Concussion Missiles (48)


or


Advanced Proton Torpedoes (48)
or equivalent size munitions
and
2x Heavy Projectile Launchers (Assault size)
Baradium Missiles (12)
or equivalent size munitions
Defenses:

Very High


Turadium Hull
Squadron Count:

Low

: 6
Maneuverability Rating:

Very Low

Speed Rating:

Very Low

Hyperdrive Class: None
STANDARD FEATURES
Communications Array

Navigation System

Sensor Suite
ADVANCED SYSTEMS
Vectored Thruster Arrays

Encrypted Communications Systems

Advanced Navigational Systems
Strengths
:
Formidable array of firepower

Extremely solid design resistant to mistreatment
Weaknesses
:
Not very agile, heavily laden

Very slow and ponderous
Description

:



Designed by MandalArms as a relatively easy to produce and cost-effective unmanned bomber, the DroidBomber K project was a logical flow-on from the previous iteration of droid piloted fighter. Taking strong design cues from the K-Wing Bomber, this version packs MandalArms' state of the art power generation technologies and weapons.

Thanks to the recent developments of more powerful and dangerous, Antimatter and Coaxium power generation technologies the small craft has more than enough power to do her job well.

Armed with a significant amount of munitions, though slow and lacking maneuverability, the MandalArms K-Wing is well protected, and able to destroy hardened targets.