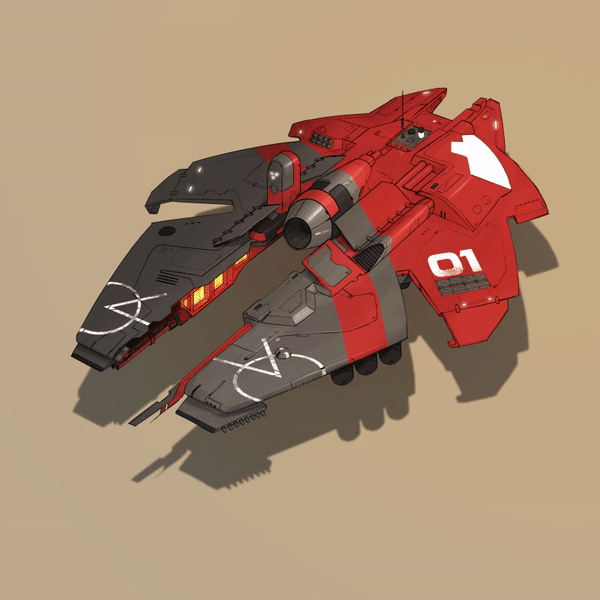 OUT OF CHARACTER INFORMATION
Intent: A specialised mass produced interceptor fighter for Mandalorian forces
Image Source: Link
Canon Link: None
Restricted Missions: None
Primary Source: None
PRODUCTION INFORMATION
TECHNICAL SPECIFICATIONS
Classification: Starfighter
Length: 15 meters
Width: 10 meters
Height: 4 meters
Armament:

High




M-5 Assault Laser Cannon

Defenses:

Very Low




Mandalorian Steel Hull

Squadron Count:

Low

: 8
Maneuverability Rating:

Average

Speed Rating:

High

Hyperdrive Class:

Average

: 2
STANDARD FEATURES
Communications Array
Navigation System
Targeting Computer
Life Support System
Astromech Droid Slot
Pilot grav couch
Ejection system
ADVANCED SYSTEMS
Kyber-focused assault laser cannon
Strengths
:
Weaknesses
:
No shields and weak armor
Armament takes several seconds from activation to firing
Description
: Designed as an answer to the Mandalorian need for a mass-produced, hard-hitting, fast interceptor, the F-69 is light on defence, heavy on engines and power generation. Her sole armament is a kyber-focused assault laser cannon mounted in front of the cockpit. The weapon takes several seconds to fire, but produces a devastating beam of destuction at whatever is in the pilot's sights.
Built sleek for speed, her powerful engines deliver maximum thrust, allowing the F-69 to fill a fighter-interceptor role well. Though she is weaker armored than other fighters, and without shields, to the point of being quite vulnerable to enemy fire, her speed and firepower are designed to try and make up for those shortcomings. Designed to be used in conjunction with other Mandalorian forces, this is a capable and useful vessel, and a worthy addition to any force.