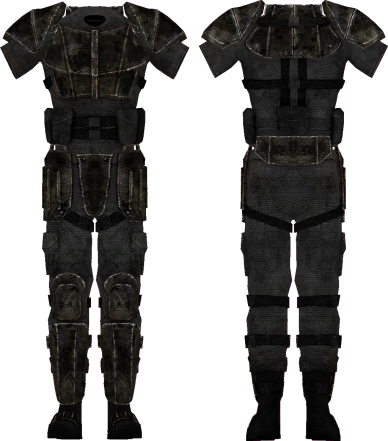 Credit:
http://i1104.photobucket.com/albums/h331/ThatAnn0yingGuy/388px-VanGraff_CombatArmor.png
Intent:
To create a cheap medium armor for the use of mercenaries and planetary militias.
Development Thread:
N/A
Manufacturer:
Hekler'Kok Defense Industries
Model:
Hekler'Kok MA-1 Medium Armor
Affiliation:
Independent
Modularity:
No
Production:
Mass-Produced
Material:
Plasteel (Thigh Plates,Crotch Guard,Shin Guard,Chest Piece and Shoulder Guards) And a Bullet Resistant Cloth Underlay
Description:
Designed to be protective and to give a equivalent to the most modern body armors. It has a bullet resistant cloth underlay that makes it less vulnerable to slugthrowers,being able to take a 7.62mm round. Over this is some Plasteel plates put in key places like the chest,shins and crotch,being able to take two blaster bolts from a rifle. While this armor provides great protection,it offers little in the way of mobility and it is not very on the lightweight side.
Classification:
Multipurpose
Weight:
10.3 Kilograms
Quality:
Class 6
Other Feature(s):
N/A